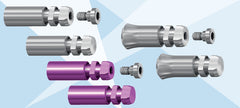 The DESS® analogues and digital analogues for dental implants both offer unique advantages that every dentist deserves to benefit from in their restorations.

This article will discuss each analogue along with the particular advantages of each.

About DESS® analogues

Composed of Stainless Steel AISI 303, DESS® analogues are essentially the head that reproduces the implant system connection with the utmost precision. These analogues allow for an easy positioning of the soft gum in the working model due to the gentle retaining area.

DESS® analogues are composed of Titanium Grade V ELI and are colour-coded to seamlessly match the original implant system categorization, thus making platform recognition much easier. Furthermore, the round and self-locking holder features of the analogue's cross shape enables an exceptional fixation in the plaster, even in cases where the milling supports on the working model.
One noteworthy advantage of DESS® analogues is the fact that they are suitable for use in 3D printed models, meaning dentists can acquire the same analogue to utilize for both analogical and digital models. This advantage also eliminates the need to invest in multiple analogues for different models.

Moreover, the DESS® analogue is available at the same price regardless of its particular use, with its discrete size allowing for convenient placement even when the implants are considerably close together or not in parallel.

About DESS® Dental Digital Analogues
DESS® offers a wide range of digital analogues suited for the market's most popular implant brands, created for use on both traditional plaster and 3D-printed models.

Composed of non-coloured AiSi 303 Stainless Steel or anodized Titanium Grade 5 ELI GAL V grade 23, DESS® digital analogues include a 1.27 hex head screw and are also colour-coded to match the implant platform to ensure easy recognition.

DESS® digital analogues feature an innovative design containing a single fixing screw to ensure the lower part of the analogue is securely fixed to the 3D model, allowing for guaranteed and accurate positioning and effective circular retentions, self-locking and exceptional stability in plaster models.
DESS® digital analogues can be purchased at competitive prices for implant brands including for Nobel Biocare®, Zimmer®, Straumann®, Astra Tech®, 3i®, Osstem®, Dentsply®, among others.

For more information on DESS® analogues and digital analogues, please don't hesitate to contact us.