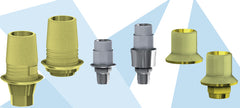 Let us cover the 'bases' for these exceptional DESS® implant components.

Dentists can rest assured they are using only the finest of materials and products for their patients' implant restorations when they choose from the DESS® line, proudly supplied by Abutments International.

A part of the DESS® dental implant product line, implant bases including the Ti-Base, C-Base®, Angled Base and CrCo Base make for a dependable component of the prosthesis.

Here's what dentists should know about each DESS® base product:

DESS® Ti-Bases for dental implants

Available in both engaging and non-engaging versions, the DESS® Ti Base was created for use with milled or casted crows in mental or zirconia. The particular dimensions and design of this base ensures a strong and stable union, as it works to reinforce the structure of zirconium in the areas experiencing the greatest stress, playing a role in softening the edges and ensuring restoration longevity.

For a majority of the implant connections, models are available in NP, RP and WP for both, single tooth prosthesis (engaging) as well as multiple teeth prosthesis, in addition to dental bridges and hybrids (non-engaging). Two varying heights are also available for the Multi-Unit® connection: a 6 mm and 8 mm, with the Ti-Base at a 8 mm height containing a higher stack and providing a more vast surface area for cementation.

DESS® Dental C-Base® for Dental Implants

Also available in both engaging and non-engaging versions, the DESS® Dental C-Base® has compatibility with the Dentsply® Sirona CEREC® system for dental implants, and can be used with the InLab and Sirona® CEREC® systems or in the DESS® libraries for Exocad® and 3Shape®. This base is available for a range of gingival heights.

The new C-Base® system allows practitioners to reduce working time with each procedure in the dental lab or clinic. The base allows for the creation of all necessary dental pieces in just a single session, from the thorough scanning of the bucco-dental area requiring treatment.

Furthermore, the C-Base® enables a replacement of the use of varying dental abutments during a patient's treatment, and all intermediate phases can be bypassed with this system due to the scan allowing for a fabrication of each of the necessary dental pieces, even in cases where their characteristics differ from one another. What's more, DESS® Dental has implemented several improvements that render C-Base® an ideal match for all brands on the market - including gold anodized colour, the SelectGrip® treatment to dramatically multiply the grip on tissue, and the modelling of various gingival heights that can adapt to each patient.

DESS® Angled Base for dental implants
Crafted from Titanium Grade 5 ELI, the DESS® Angled Base provides the perfect solution in instances when practitioners must angle the screw channel. Due to its unique profile shape, an angled screw insertion of up to 25° with full torque is achievable with the Angled Base.

Noteworthy features and benefits of the DESS® Angled Base® include:

Like with the DESS® TI-Base and C-Base®, the DESS® Angled Base is also available in both engaging and non-engaging versions for use in single tooth and bridge restorations
Its gold-anodized quality providing a warmer hue in thin tissue, namely in the esthetic zone
De-bonding tests have shown considerably better results for Angled Base when compared to other competitive products.
It offers a 30% reduction in exit hole area compared to competing products, helping to facilitate the design and improve aesthetic appearance.

Contains the same design of screw connection and driver tool for the entire range of DESS® platforms based on Torx®, thus limiting the need for varying tools and eliminating the risk for mix-ups
CrCo Bases for dental implants

The CrCo (Cobalt-Chrome) interface in conjunction with a castable sleeve presents even further restorative options for DESS® product users. Due to the featured burnout sleeve, treatment can be performed directly on CrCo, casting on a small scale to fabricate crowns that are prepared for the firing of porcelain on while also retaining the DESS® quality of the dental implant connection.
The CrCo base is also available in both engaging and non-engaging versions, enabling the creation of both single and multiple unit structures.

Dentists: You can Trust Abutments International with All of Your Dental Implant Supply Needs
Dentists can rest assured that they are employing the best of dental implant supplies and materials when they source from Abutments International.

Abutments International was established to provide dental professionals with top-tier implant products using higher quality materials, offered at more reasonable and affordable prices. Our products including the DESS® line with over 70 years of manufacturing experience are produced in Europe under the highest quality assurance standards, and designed using only the most advanced technologies available today.

Abutments International is thrilled to a be part of dentists' success in providing exceptional quality restorations to their patients.

Interested in learning more about the DESS® implant base products, or about any other product we supply?

Reach out to us today and we'd be happy to chat.