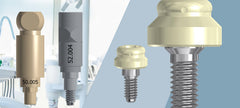 When it comes to choosing an abutment for implant restoration, quality matters above all else.

Fortunately for the modern dental professional, Abutments International Inc. makes it easy to select compatible, flexible and lifetime-guaranteed abutments using only the highest quality materials - so patients can rest assured that their restoration will last for years to come, just like the trusting relationship they share with their dentist.

In this article, we'd like to introduce you to three of our most popular DESS abutments types, while exploring their one-of-a-kind technologies that make each so special:

DESSLoc®: The difference is in the Zirconia Nitride (ZrN)
An excellent solution for removable full prosthetic restorations, DESSLoc® abutments have the capacity to be used in old restorations without presenting any issues. In conjunction with the long-established advantages of its traditional components, DESS has made some additional improvements to the DESSLoc® to make it an even more ideal solution for such restorations. These improvements primarily include the exclusive coating* of Zirconia Nitride (ZrN), a completely biocompatible material capable of increasing the hardness of the abutment surface. This also decreases the coefficient of friction in comparison to the traditionally used Titanium Nitride, while dramatically out-performing some of the lower-quality alternatives containing no coating, or that are simply anodized.

Due to this unique ZrN surface treatment, a reduction of inflammation as well as a decrease in plaque formation is also achieved - ultimately improving the functional life of the DESSLoc® abutment, especially when compared to other solutions. Furthermore, the colour of the coating contributes to a richer aesthetic quality of these prosthetic restorations.

Regarding the usability of the DESSLoc® solution, a manual plastic transporter is also included with each abutment at no additional cost - which is very helpful when considering the first phase of manual placement, particularly on posteriors where space tends to be minimal and access difficult. Additionally, the DESSLoc® system features a new insertion key with an anti-dropping feature for torque wrenches.

Scan Abutments: Designed for both desktop and intra-oral

Available in both desktop and intra-oral versions, the intra-oral Scan Abutment features an integrated screw and unique design that works to minimize scan distortion.

The Scan Abutment for desktop is composed of Tecapeek® (Exeption: Ankylos® = Titan), and is laser-marked and sand-blasted for improved optical properties. This abutment is included without a prosthetic screw.

The Intraoral Scan Abutment, on the other hand, is composed of Titanium-grade V ELI - with its guaranteed toolness and no hole/no distortion problem, as well as its high clarity and precision with positioning on radiographs.

The unique technologies and design of these Scan Abutments are integrated in the official libraries from Exocad®, 3Shape® and Dental Wings® - allowing for AD work on DESS® interfaces in both single and multiple restorations.

Dentists: You can Trust Abutments International Inc. with All of Your Dental Implant Supply Needs

Established to offer our customers high quality implant products at reasonable prices, Abutments International Inc. is thrilled to a be part of dentists' success in providing exceptional quality restorations to their patients. Please contact us today if you have any questions, or to inquire about any one of our products.